Chiropractic Services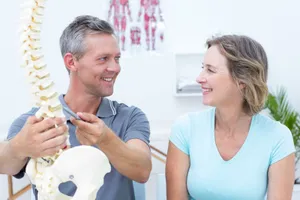 Are you dealing with back pain or neck pain? Are your shoulders weak, stiff or sore all the time? Do you feel like you're dealing with mobility or range-of-motion issues? If so, then chiropractic care could be the nonsurgical treatment option you've been looking for. Our chiropractic specialists can easily improve your health and treat common symptoms and disorders including:
Arthritis
Personal Injuries
Auto Accidents
Headaches
Sports Injuries
Osteoporosis
Whiplash
Low or Mid Back Pain
Neck and Arm Pain
Injured Workers
As you can see, chiropractic care can help you manage your symptoms for an array of both acute and chronic conditions. Chiropractors take a drug-free approach to providing you with the quality care you need to improve your quality of life and how your body functions to reduce your symptoms. Besides offering therapeutic services we also provide lifestyle and dietary support.
Many aches and pains can be managed through regular chiropractic care and one of the most common treatment options is spinal manipulation. Chances are good you know about spinal manipulation even if you haven't gotten it yourself. Spinal manipulation helps us to realign the vertebrae within the spine to take pressure off certain joints and to improve mobility and function while reducing pain and swelling. When you come in for a consultation we can decide how often you should come in spinal manipulation sessions based on the type and severity of your condition.
Chiropractic care is one of the safest drug-free ways to treat common aches and pains. Some patients may only notice relief after their chiropractic session while some may feel a bit sore or achy after spinal manipulation. This discomfort is minor and often goes away within one day. If we are unable to treat your condition then we will refer you to the proper medical professional to handle your treatment and specific needs. With HealthPro Wellness you can trust that we will provide you with the care you need to tackle pain and other ailments.
Do you need Chiropractic services?
Contact Castledowns Chiropractic at (780) 457-3621 to schedule an appointment!