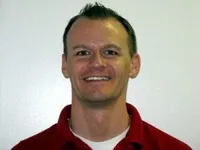 Dr. Christopher Oviatt
Chiropractor
Dr. Oviatt grew up in Sherwood Park, Alberta and is a 1999 graduate of Canadian Memorial Chiropractic College. He lives in Edmonton with his wife and young daughter. He enjoys spending time with his family, siblings, and parents, and loves when the entire family can get together, alhough it can get noisy - he has A LOT of rambunctious nieces and nephews!
He utilizes diversified, Activator, and myofascial release as his chiropractic techniques of choice. He enjoys attending chiropractic seminars to constantly improve his technique, knowledge base, and to stay current with the latest research.
"Growing up, I was very active in sports, and suffered a couple of sports injuries that responded well to chiropractic care. After the pain was gone, I was surprised to discover that continued chiropractic treatments not only prevented further problems, but actually helped me to perform better – and without it, I was not as fast or efficient as an athlete. As a result, I grew to appreciate the various ways that chiropractic can benefit individuals. It's not always just about the pain."
"My favorite thing about my practice? My patients! It's exciting to see them get the results that they desire. Being a chiropractor is so enjoyable, because the potential to help people with various aspects of their health is extremely rewarding on a personal level. I also love working with our team here at Castledowns Chiropractic. The success we achieve here with our patients is a direct result of the collaboration between me, my colleagues, and staff."
Dr. Oviatt is a member of the Canadian Chiropractic Association and the Alberta College and Association of Chiropractors.