Spinal Adjustment Therapy In Edmonton, AB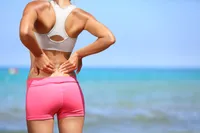 A spinal adjustment is a common chiropractic therapy for reducing lower back pain. The procedure is performed by chiropractors, using either their hands or a device to apply controlled pressure to the spinal joints. The main purpose of spinal adjustments is to properly realign the structures of the spine and to improve the body's function and mobility.
Most patients often visit a chiropractor because they are experiencing lower back pain, neck problems or headaches. Chiropractic treatments such as spinal adjustments can promote better healing and better functioning for the body. Talk to your chiropractor about how frequently you should receive spinal adjustments so both we can create an effective treatment plan to combat your pain.
During a spinal adjustment, the patient is asked to lie down on a specialized chiropractic table. The chiropractor will use effective pressure on each joint to push its range of motion. It's normal to hear popping sounds as your joints are being moved around during treatment. Spinal adjustments can also be combined with other treatment options like heat or ice therapy, specific stretching exercises and electrical stimulation to promote a healthier spine.
After spinal adjustments, some patients may experience fatigue or discomfort in the treated regions of the body. This is completely normal and will go away in a couple days. With regular spinal adjustments you should begin to notice your symptoms dissipating after several weeks of treatment.
The majority of health insurance companies will cover chiropractic care; however, you may want to check to make sure this treatment is covered before you opt for care.
While spinal adjustments can be beneficial for those experiencing back pain, it isn't for everyone. Those with serious osteoporosis, those with spinal cancer, and those with a weak or unstable spine should not seek this chiropractic treatment.
For more information on Spinal Adjustment in the Edmonton, AB area call Castledowns Chiropractic at

(780) 457-3621

today!